No Outsiders
What is No Outsiders?
The vision for No Outsiders is inclusive education promoting community cohesion to prepare young people and adults for life as global citizens.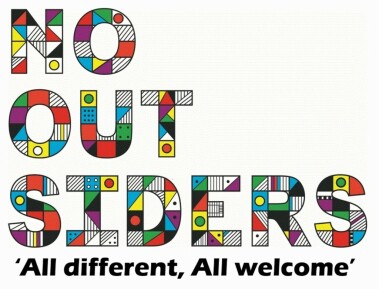 The school ethos teaches children about belonging through lesson plans based on picture books and assemblies.
Children are taught there are no outsiders in our schools because everyone is welcome.
If you would like to find out more about 'No Outsiders' then visit the website here.
For an overview of No Outsiders watch this short film
 
No Outsiders training with Andrew Moffat from Excelsior MAT
Andrew can deliver whole or half day staff training, twilights and insets after school. He also delivers  keynotes and workshops regularly at conferences and training sessions for student teachers.
The most popular training option by far is the No Outsiders teaching day. On this day, Andrew will teach an age-appropriate No Outsiders lesson to every child in your school Reception – Y6, either as individual classes or as year groups.  This enables all staff to see a No Outsiders lesson and see their children engaging with the ethos. Andrew will leave your class with follow up work if desired.  Andrew has also delivered classes in secondary schools.
Our innovative No Outsiders training grows in demand each year through word of mouth and the figures speak for themselves:
2020-2021
3,564 children taught in 13 schools across the UK.
36 training events in total and 1253 teachers trained
 
2021- 2022
6,566 pupils taught in 24 schools across the UK
56 training events in total and 3849 teachers trained
 
2022- 2023
77 schools visited for a No Outsiders teaching day 
Keynotes delivered at 31 conferences
18,700 children taught a no outsiders lesson by Andrew Moffat
4,200 staff trained 
The following are comments on twitter following a No Outsiders teaching day:
A huge diolch yn fawr from all of 3GB today to Andrew Moffat for educating us all on 'No outsiders' and the importance of us all having our differences! I am so proud of the mature and inspiring conversations you had in class today.
It was a pleasure to welcome moffat_andrew to our school last week. Interesting and thought provoking conversations happened in all classrooms centred around inclusivity and the view that we have 'no outsiders' in our school community.
Inspiring, funny, engaging and so much more. Loving @moffat_andrew, very timely CPD I would say.
Moffat_andrew in school today and training staff tomorrow. Absolutely awesome sessions with our Year 5 and Year 6 children so far.
Great to have Moffat_andrew in school today. The feedback from all staff was amazing and I loved watching his session with year 1 this afternoon!
Wow what a powerful lesson. We explored this book for No Outsiders and discussed how we all belong. Some great pupil voice: "A book about how we should not discriminate and that it's ok to be different." (Y5 pupil)
Excelsior MAT charges £500 for the day plus travel. To book no outsiders training or for further information, email Andrew on a.moffat@excelsiormat.org
Since 2016, Ofsted reports for all Excelsior schools have mentioned No Outsiders or praised our equality work:
Parkfield School, May 2016
The provision for pupils' spiritual, moral, social and cultural development is a strength and permeates the school's work. This is an inclusive school that celebrates diversity. As a result, pupils demonstrate respect for an individual's age, disability, gender or gender reassignment, sexuality, race, religion or belief.
The provision for pupils' spiritual, moral, social and cultural development is a key strength of the school. Fundamental British values are actively promoted through the school's work on 'No outsiders in our school', which develops pupils' understanding of how the Equality Act relates to and affects them. As a result, pupils celebrate diversity and are respectful towards others, including those with different beliefs, sexuality, gender or culture. One pupil spoke for many when she told inspectors, 'everyone is an insider in our school, there are no outsiders, whatever their beliefs, whatever their colour, gender or sexuality'.
Parkfield School, February 2019
Respect, tolerance, understanding and acceptance of other's differences underpin the work of the school. This is achieved through a programme of SMSC and PSHE education lessons and a wide range of activities such as assemblies, 3 presentations from outside speakers, trips and visits. All the staff who spoke with inspectors eloquently communicated the school's vision.
Pupils talk knowledgeably and perceptively about how individuals and groups of people may be different to them in terms of, for example, their disability, age, race, religion, belief or no belief, gender and sexual orientation. The relationships between pupils and staff, and among pupils, are positive and constructive. The school is a cohesive community. Staff from a wide range of cultures and beliefs work well together and actively model tolerance, acceptance and mutual respect. As a result, pupils are consistently courteous, considerate and respectful of others. The majority of pupils who spoke with the inspectors said that the school's lessons and out-of-class activities help to 'bring pupils together' so that 'no one is left out'. One pupil summed up the views of many when they said: 'We look out for, and after, people who are different so that we can help one another. 
Turves Green School, February 2020
At Turves Green Primary everyone is valued and included. Pupils say that their school 'is a special place because no one is an outsider, and no one is left out'
 
Green Meadow School, June 2021
Leaders have made significant progress in improving the personal, social and health education (PSHE) programme. This is now a strength of the school. Pupils have a strong understanding of how to maintain good physical and mental health. They are also well versed in discussing and debating issues because oracy is threaded across all subjects. Pupils learn to agree, build on, or challenge the views of others respectfully. This helps build their character. They demonstrate high levels of awareness and acceptance of others who are different. As a result, their levels of social responsibility are developing well. The PSHE curriculum has been established quickly but successfully. It is delivered effectively and has strengthened pupils' personal development and reduced incidents of racism and bullying in the school.
Parkfield School, November 2022
Pupils at Parkfield Community School say there are no outsiders here and that all are welcome. Leaders ensure that pupils understand their rights and pupils speak maturely about how they follow the values of being 'ready, respectful and safe'. Pupils confidently discuss why they enjoy learning. They are very proud of their school.
All No Outsiders assemblies are free to access from the No Outsiders website here:
KS2 Assembly plans (no-outsiders.com)
KS1 Assembly Plans (no-outsiders.com)
Are you receiving the free weekly Agents of Hope newsletter? Every month Excelsior MAT emails the Agents of Hope newsletter, featuring extra assemblies and lesson plans to teach mental health and well-being to over 1200 schools. Email Andrew to be added to the mailing list.